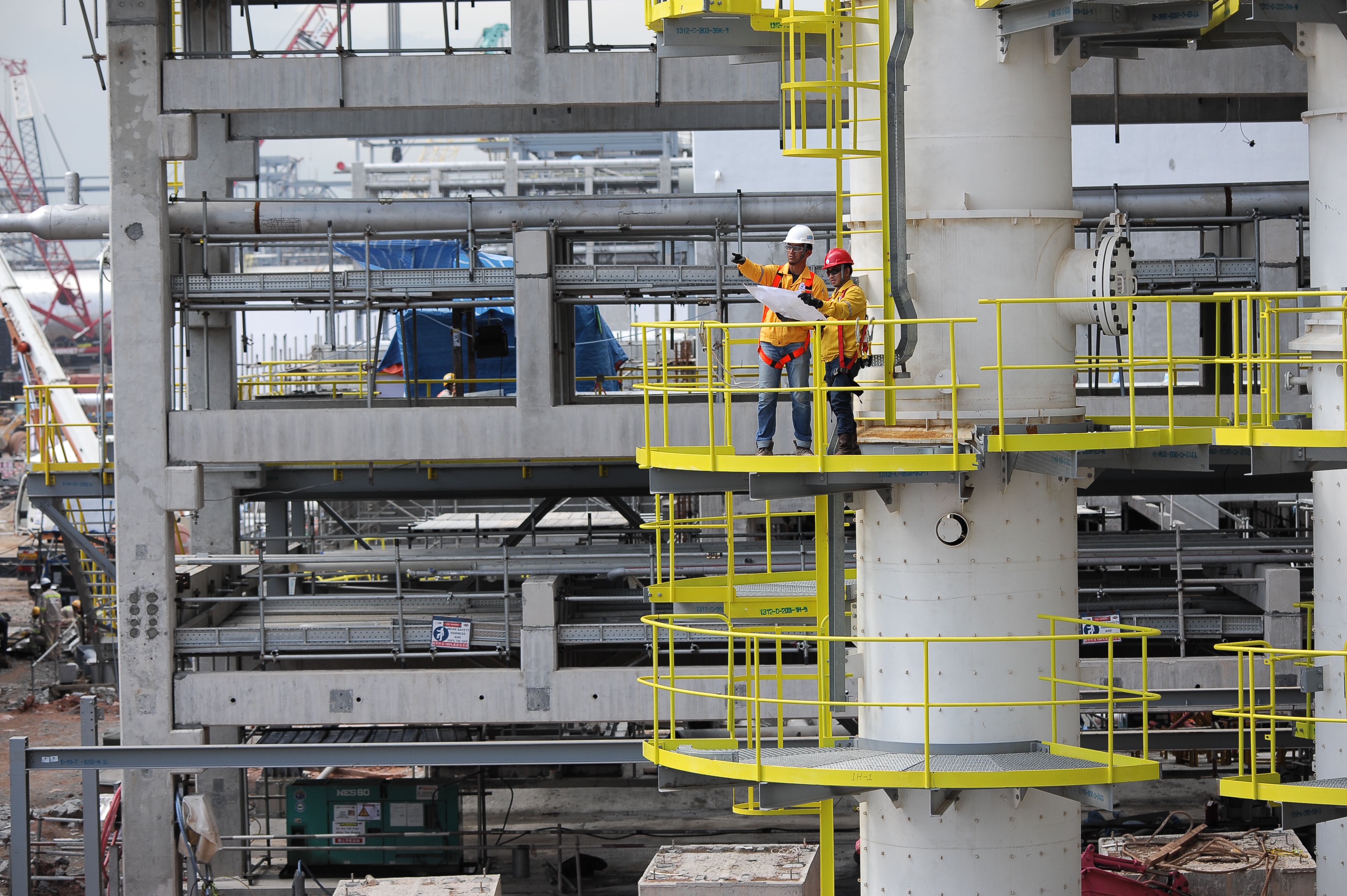 Discover your true potential and build your career with PETRONAS Refinery & Petrochemical Corporation Sdn Bhd (PRPC) , a subsidiary of PETRONAS.
In our pursuit for business excellence, we continuously strive for new solutions and push the boundaries of industry norms to achieve sustainable growth to remain competitive.
We are looking for capable and driven talents to join our dynamic team in the Oil and Gas industry to be based in Pengerang, Johor, Malaysia.
Requirements

Executive Positions: Minimum a Bachelor's Degree in Engineering, and/or at least 8 years of experience in related fields e.g as Shift Supervisor, Technical Specialist.

Non-Executive Positions: Minimum a Diploma in Engineering, and/or at least 8 years of experience in related fields e.g as Panelman/ Boardman, Field Operator, Specialist Technician.
Specialisation in the fields mentioned below is an added advantage.
​​​​​​​​​​Refinery Technologies
Atmospheric Residue Desulfurisation (ARDS)
Residual Fluid Catalytic Cracking (RFCC)
Steam Cracker Complex (SCC)
​​​​​​​​​​Petrochemical Technologies
Ethylene Oxide and Ethylene Glycol (EOEG)
High Density Polyethylene (HDPE)
Polypropylene (Spheriphol, Spherizone)
Linear Low Density Polyethylene (LLDPE)
Warehouse Operation (Automated Storage & Retrieval System (ASRS) and Bagging)
C4 Isononanol (INA)

Process and Engineering:
Advance Process Control (APC)
Condition Based Monitoring (CBM)
Material, Corrosion and Inspection
Utilities Technology
Laboratory
Closing date: 30 September 2017
Only shortlisted candidates will be contacted.
List of Positions – Executive
​​Shift Supervisor ​
​PRPC001 ​Shift Supervisor Atmospheric Residue Desulfurization (ARDS)
​PRPC002 ​Shift Supervisor Residual Fluid Catalytic Cracking (RFCC)
​​PRPC003 ​Shift Supervisor Steam Cracker Complex (SCC)
​​PRPC004 ​Shift Supervisor​​ High Density Polyethylene (HDPE)
​​PRPC005 ​Shift Supervisor Ethylene Oxide and Ethylene Glycol (EOEG)
​​PRPC006 ​Shift Supervisor Linear Low Density Polyethylene (LLDPE)
​​PRPC007 ​Shift Supervisor Polypropylene (Spheriphol, Spherizone)
​​PRPC008 ​Shift Supervisor Isononanol
​​Specialist ​
​​PRPC009 ​Residual Fluid Catalytic Cracking (RFCC) Mechanical Specialist
​PRPC010 ​Atmospheric Residue Desulfurization (ARDS) Mechanical Specialist
​​PRPC011 ​Advance Process Control (APC) Specialist
​​PRPC012 Operational Safety Specialist
​​PRPC013 ​Rotating Specialist
​​PRPC014 ​System & Metering Specialist
​​PRPC015 ​Field Instrument/ Analyser Specialist
​​PRPC016 ​Water Specialist
​​PRPC017 ​Polymer Technology Specialist
​Area Specialist​ ​
​​PRPC018​ ​Area Specialist Linear Low Density Polyethylene (LLDPE)
​​PRPC019 ​Area Specialist High Density Polyethylene (HDPE)
​​PRPC020 ​Area Specialist Polypropylene (Spheriphol, Spherizone)
​​​PRPC021 ​Area Specialist Ethylene Oxide and Ethylene Glycol (EOEG)
​​​PRPC022 ​Manager Operation Specialist Ethylene Oxide and Ethylene Glycol (EOEG)
​​​PRPC023 ​Manager Operation Specialist Polypropylene (Spheriphol, Spherizone)
​​​PRPC024 ​Manager Operation Specialist High Density Polyethylene (HDPE)
​​​PRPC025 ​Manager Operation Specialist Linear Low Density Polyethylene (LLDPE)​
​Manager ​
​​PRPC026 ​Head Laboratory Support
​​PRPC027 ​Head Refinery & Cracker Scheduling
​​PRPC028 ​Head Plant Economics & Data Manager
​​PRPC029 ​Shift Manager
​​Engineer ​
​​PRPC030 ​Instrument Engineer
​​PRPC031 ​Material/Corrosion/ Inspection Engineer
​​PRPC032 ​Mechanical Rotating Engineer
List of Positions – Non Executive
​​Panelman ​
​PRPC033 Panelman High Density Polyethylene (HDPE)
​PRPC034 Panelman Ethylene Oxide and Ethylene Glycol (EOEG)
​PRPC035 Panelman Linear Low Density Polyethylene (LLDPE)
PRPC036 Panelman Atmospheric Residue Desulfurization (ARDS)
​PRPC037 Panelman Residual Fluid Catalytic Cracking (RFCC)
​PRPC038 ​Panelman Catalytic Reforming Unit (CRU)
​PRPC039 ​Panelman Methyl Tertiary Butyl Ether (MTBE)
​PRPC040 ​Panelman Steam Cracker Complex (SCC)
​PRPC041 ​Panelman Effluent Treatment Plant (ETP)
​PRPC042 Panelman Spheriphol
​PRPC043 Panelman Spherizone
​PRPC044​ ​​Panelman Utilities
​PRPC045 ​Panel Isononanol
​​Specialist Technicians ​
​PRPC046 ​Specialist Technicians Instrument Analyser
​PRPC047 ​Specialist Technicians CBM/Extruder (Rotating)
​PRPC048 ​Specialist Technicians Instrument DCS/SIS
​PRPC049 ​Specialist Technicians Static Unfired
​PRPC050 ​Specialist Technicians Laboratory GC, AAS, Multivariate
​PRPC051​ ​Specialist Technicians Laboratory GC, XRF, Multivariate & MI
​PRPC052 ​Specialist Technicians Inspection
​PRPC053 ​Specialist Technicians Machinery Control
​PRPC054 ​Specialist Technicians Electrical Protection & Control/UPS
​PRPC055 ​Specialist Technicians Instrument System
​PRPC056 ​Specialist Technicians Water & Steam
​PRPC057 ​Specialist Technicians Effluent Treatment
​Technician ​
​PRPC058 ​Technician Ethylene Oxide and Ethylene Glycol (EOEG)
PRPC059 ​Shift Chargeman AO/BO
​PRPC060 ​Technician Instrument & Control (I&C)
​PRPC061 ​Technician I&C – Metering
​PRPC062 ​Technician I&C System
​PRPC063 ​Automated Storage and Retrieval System Operator
​PRPC064 ​Technician Bagging & Warehouse Operations
​​PRPC065 ​Technician Bagging & Warehouse Maintenance
​​PRPC066 ​Technician Laboratory Instrument
​​PRPC067 ​Technician Laboratory Support
​​PRPC068 ​Technician Condition Based Monitoring
​​PRPC069 ​Technician Mechanical Static
​​PRPC070 ​Technician Mechanical Process
​​PRPC071 ​Technician Mechanical (Workshop)
​​PRPC072 ​Technician Mechanical (Corrosion)
​​PRPC073 ​Technician Mechanical Rotating
​​PRPC074 ​Technician Electrical
​​PRPC075 ​Technician Civil
​PRPC076​ ​Technician Inspection
​​PRPC077 ​Non-Executive Document Controller (Technical Clerk)
Field Operator​ ​
​PRPC078 ​Field Operator Linear Low Density Polyethylene (LLDPE)
​PRPC079 ​Field Operator Spheriphol
​PRPC080 ​Field Operator Spherizone
​PRPC081 ​Field Operator Ethylene Oxide and Ethylene Glycol (EOEG)
​PRPC082 ​Field Operator Automated Storage and Retrieval System (ASRS)
​PRPC083 Field Operator High Density Polyethylene (HDPE)
​PRPC084 ​​Field Operator Utilities​
​

List of Positions – Line Trainer
Line Trainer ​​
PRPC085 ​Line Trainer HSE
​PRPC086​ ​Line Trainer Petrochemical,Ethylene Oxide and Ethylene Glycol (EOEG)
PRPC087 ​Line Trainer Mechanical Static
​PRPC088 ​Line Trainer Mechanical Rotating
​PRPC089 ​Line Trainer Instruments
​PRPC090 ​Line Trainer Electrical
​PRPC091 ​Line Trainer Utilities
​PRPC092 ​Line Trainer Mechanical
Sumber: Petronas.com.my/careers